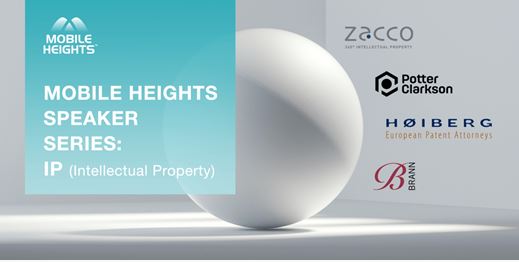 Identifying IP in a digital business idea – a 360 perspective
(A webinar organised by Mobile Heights and presented by Zacco)
The new Mobile Heights Speaker Series – IP (Intellectual Property) is organised by Mobile Heights in cooperation with our members Zacco, Høiberg, Potter Clarkson and Brann.
On October 14, Zacco will be kicking off the speaker series by focusing on how to identify and secure the IP for your company.
Do you know what your intellectual assets are, and how they are matched by IP?
Do you wonder about what measures you should take to secure these assets?
Zacco will provide an overview of how to obtain IP rights within your organisation through registration, contracts or copyrights, and what you should consider when securing your assets.
Sign up now and join us online on October 14 from 11-12!
WHEN?
Thursday, October 14, 2021, from 11-12
HOW?
When you register, a confirmation e-mail with the zoom link will be sent to you. Please check your spam if you cannot find it.
PLEASE NOTE! To join, just copy the zoom link into your web browser.
You do not need to go through Eventbrite.
The event is free of charge for both Mobile Heights members and non-members.
Welcome!